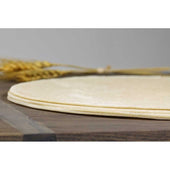 Ultra Thin Crust Original Round Par Baked Pizza Shell Flatbread, 9 inch -- 50 per case.
Ultra Thin Pizza Shells Thin Crusts Par-baked 9 in. pizza shell flatbread Contains wheat Frozen shelf life: 12 months Refrigerated shelf life: 3-6 days Keep frozen for later use 3.6 oz. (102.06 g) each 50 crusts per case The Ultra Thin Original Thin Crust Pizza Shell Flatbread is a lightly baked and pre-formed nine-inch pizza shell. A signature food item in any kind of menu, these thin crusts can be fully baked within minutes and are perfect for preparing various pizza pies. This bulk case with 50 Ultra Thin pizza shells will be a great choice for hotels, school and office cafes, kiosks, resorts, diners, and catering services. Orignal Thin Crust-Individual size Preparation instruction: Defrost, Top, Bake 9" Original Thin Crust, Round, Par Baked Pizza Shell/Flatbread
| | |
| --- | --- |
| Manufacturer: | Ultra-Thin Pizza Shells & Flatbreads |
| GTIN: | 00632872009104 |
| SKU: | 21295609 |
Sign up to view additional product details and see reviews
Get served the rewards you deserve. It's free and easy to join.
Sign Up For Rewards
Already have an account? Sign In
Buy it now: