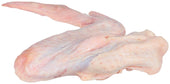 Maple Leaf Farm 3 Joint Duck Wing, 20 Pound.
Maple Leaf Farm Duck Wing Duck Wing Ready-to-cook duck wing Keep frozen for later use 20 lb. (9.07 kg) each The Maple Leaf Farm 3 Joint Duck Wing is a raw cut of whole duck wing for use in main courses. Also great for appetizer menus, this duck wing comes frozen to lock in freshness. The ready-to-cook duck wing can be grilled, fried, or baked as per requirements. An ideal buy for diners, bistros, and food service applications, the bulk case contains 20 pound of Maple Leaf Farm duck wings. Raw Duck Wings Duck Wings 2-3 Joint, Layer Bulk Pack, Raw, Frozen
| | |
| --- | --- |
| Manufacturer: | Maple Leaf Farms Inc |
| GTIN: | 90073981307164 |
| SKU: | 148260 |
Sign up to view additional product details and see reviews
Get served the rewards you deserve. It's free and easy to join.
Sign Up For Rewards
Already have an account? Sign In
Buy it now: