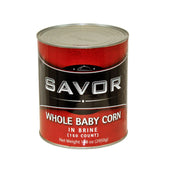 Savor Whole Baby Corn, 150 count per pack -- 6 per case.
Savor Imports Baby Corn Baby Corn Ready-to-cook whole baby corn Keep frozen for later use 108 oz. (3.06 kg) each 6 containers per case The Savor Imports Whole Baby Corn is a pack of ready-to-cook baby corn that can be used across menus. Packed for convenience, the corn helps in quick kitchen-to-table service and saves valuable prep time. Great in soups, stews, salads, and stir-fry recipes, the whole baby corn will be an ideal buy for cafes, bistros, salad bars, and diners. The bulk case contains 6 containers of Savor Imports whole baby corn.
| | |
| --- | --- |
| Manufacturer: | Savor Brands Inc |
| GTIN: | 10684476002736 |
| SKU: | 21389862 |
Sign up to view additional product details and see reviews
Get served the rewards you deserve. It's free and easy to join.
Sign Up For Rewards
Already have an account? Sign In
Members near you purchased from:
Buy it now: